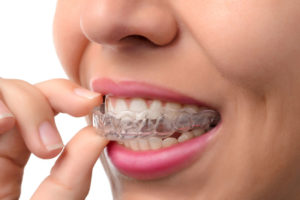 Orthodontia is the specialty of dentistry that is concerned with the treatment of improper bites and crooked teeth. Orthodontic treatment can help fix the patient's teeth and set them in the right place.
Invisalign is a clear way to straighten teeth without traditional metal braces, using aligners. Aligners are made of clear, thin medical-grade plastic that is virtually invisible when worn.
There are both cosmetic and health benefits to properly aligned teeth. Invisalign cannot only give you a more cosmetically pleasing smile, but also benefit your overall health. Teeth that are not aligned properly in your mouth create a malocclusion. When left untreated, malocclusion can lead to gingivitis, gum tissue and bone loss, premature tooth wear or fracture, and jaw joint pain.
We works directly with the Invisalign laboratory to create a series of clear custom aligners that gradually move your teeth. You wear each set of aligners for a period of 2 weeks for 22 hours a day and visit us for an evaluation every 6 weeks to check your progress. Completed treatment time will vary depending on the complexity of your case, though the average treatment time is one year. We would be glad to evaluate your specific case with a complimentary evaluation visit.
Benefits of Invisalign:
Nearly Invisible: You can straighten your teeth without anyone having to know.
Removable: You can still eat and drink what you want.
Better Oral Hygiene: You can brush and floss normally to maintain healthy gums and teeth during treatment.
Invisalign works by applying continuous pressure over a period of time to slowly move teeth in a specific direction. As the teeth move, the bone changes shape as pressure is applied.
Dental braces can correct even the most complicated issues in aligning the teeth. The braces are not only esthetically pleasing, but functional as well. These are beneficial in closing gaps and correcting crooked teeth.