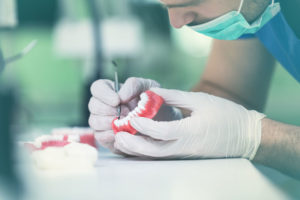 When patients have lost all or most of their teeth, we may recommend dentures. Fabricated from acrylic resin, today's dentures and partial dentures restore stability inside your mouth, offering a design that looks more like your original teeth. We have seen the transformation as patients regain control over their lives and smile again with confidence.
Dentures can offer the following benefits:
Replacement of missing teeth and improved esthetics
Improved speech and chewing capabilities
Expanded dietary options
Support for facial structures
Renewed confidence
If you are missing teeth for a long period of time your face may began to "sag" based on bone loss. Dentures will help you eat more foods and maintain a more aesthetic look. We have many options for dentures. We can place full or partial dentures or you may need a bridge. Complete dentures are when we replace all of your teeth with a set of dentures. If you are only missing some teeth partial dentures may be right for you. The healthy teeth remain in the mouth and the partial denture anchors to those healthy teeth.  Call us today to help determine what is the best solution for you.