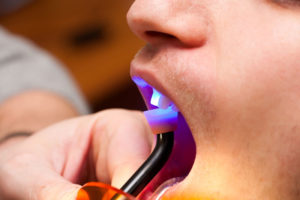 Dental bonding is a popular method used to enhance the esthetics of your smile. Dental bonding can be used to correct chips, close gaps, cover stains, enlarge small teeth, and to straighten the appearance of crooked teeth. Almost anyone is a candidate for dental bonding, including children. If you are interested in having a whiter smile, we may recommend teeth whitening before beginning dental bonding treatment.
Dental bonding is a procedure that can be completed in one easy, convenient visit. Dental bonding is a material made of a high-quality plastic known as composite resin. First, a shade will be selected to match your tooth enamel. We will apply and sculpt the resin to look natural with your smile. We will then expose the resin to a curing light to make the material hard and durable.
Recent advances in the composition of resins have increased the strength, durability, and longevity of these restorations. Although dental bonding is not as resilient and stain-proof as porcelain veneers, it is a more cost effective method.
Bonding can change the color of teeth, hide cracks in teeth, lengthen or shorten teeth, and more. Call us today to help determine what is the best solution for you.